Please indicate which show you are submitting to in the title of your piece.
Announcing the brand new, first ever So Say We All Literary Prize in Fiction! One first place winner will receive a $250 prize and publication online and in print. We are excited to explore our first literary contest. And! We are extra excited (and feeling a bit fannish) because our inaugural contest will be judged by the amazing Leesa Cross-Smith. More details: http://www.sosayweallonline.com/contest/
Leesa Cross-Smith is the author of Every Kiss a War and the editor of WhiskeyPaper. Her work has appeared in Best Small Fictions. She loves baseball and musicals. Find more @ LeesaCrossSmith.com and WhiskeyPaper.com.
Contest Guidelines:
We are looking for fiction short stories
Surprise us. We want your beautiful, your weird, your uncouth, your unexpected, your experiments, your sadness, your joy, your fear. Story is our currency here: give us characters we can't forget doing things we can't forget.
Length: under 3,000 words please.
Please make sure your submission does not have your name or any identifying information in the attachment
One story per $10 entry fee. Multiple submissions are fine, as long as each is its own entry with its own $10 entry fee.
Simultaneous submissions are also just fine. However, if your work gets picked up elsewhere, please withdraw immediately. Entry fees are, regretfully, not refundable.
Contest Details:
Submission window: 1/15/17 – 4/30/17
Deadline: April 30th, 2017 at 11:59 PM pacific time
$10 entry fee
$250 prize for one first place winner
Blind submission process! No names in your files!
The winner's story will be illustrated, published in The Radvocate Issue Fifteen, and published online on our website.
The top five finalists will also be published in The Radvocate Issue Fifteen.
All contest entries will be considered for publication in The Radvocate Issue Fifteen.
We love you and cannot wait to read your work and share it with Leesa.
So Say We All is a literary non-profit and small press based in San Diego, CA. Our mission is to create opportunities for individuals to tell their stories, and tell them better, through three core priorities: publishing, performance, and education. SSWA offers education outreach programs specifically targeting communities who have been talked about disproportionately more than heard from in mainstream media. To learn more, visit www.sosayweallonline.com, or follow us: twitter / instagram / facebook.
READ FIRST:

Submit here for SSWA's monthly VAMP (Visual / Audio Monologue Performance) Showcase only. Please include a brief bio and your e-mail in the comments section when submitting. VAMPs are usually, unless otherwise noted, held on the last Thursday of the month.
Our list of all VAMP shows, themes, and submission deadlines can be found here.
Work should fall between 5-10 minutes in length. Between 140-160 words per minute is an average guide. Style, voice, and literary form can vary widely, but we're looking for true, non-fiction stories that involve a transformation (of you, a character, a place, etc.) and offer an insight that we can relate to.
Please be aware that there is a rehearsal and critique process for all accepted VAMP submissions. Rehearsals & crits are MANDATORY. If your piece is accepted and you can't make the first scheduled rehearsal, please let us know right away. All reasonable accommodations will me made. We want you to give the best performance possible when we put you on stage.
All scripts are read and voted on by a blind peer review panel comprised of individuals who have performed at previous VAMP Showcases, to ensure bias or nepotism does not affect the selection process. Therefore, please DO NOT PUT YOUR NAME ON YOUR SCRIPT.
Thanks, good luck, and please don't be disheartened if you aren't selected. I founded this organization and I've been rejected multiple times myself. A rejection is not a statement on the quality of your writing, there are dozens of factors at play when putting a show together, and we want it to always be a reflection of our community and the people who comprise it.

Best,
- Justin Hudnall

The Radvocate is a literary arts journal, published by So Say We All, and edited by a dedicated team of volunteers under the direction of its creator and Editor-in-Chief, Matt Lewis.

Submissions are currently open for Issue Fifteen from January 15th, 2017 - April 30th, 2017

The Radvocate features the fiction, non-fiction, poetry and visual art of people who acknowledge the state of the world and strive to reflect it in their work, individuals who read independently, think critically, and will help us shout to those who would control us: "We are not afraid." We will not relegate your piece to the abyss for being too genre, too serious, too comedic, too this or too that. What we are looking for is the best of the best, across the entire spectrum, to include in our glorious hodgepodge tribute to the written word. Bring us your fiction, your non-fiction, your huddled poems yearning to breathe free.

We recommend works shorter than 3,000 words. Artwork should be at least 300 dpi in quality, Jpegs preferred.

We are currently reading for issue 15. Submissions close April 30th, 2015.


So Say We All's Veteran Writers Division is accepting submissions for its next Incoming anthology, tentatively titled: "Sex, Drugs, and Copenhagen." We were originally going to call it "Sex Drugs, and Coping Mechanisms" but couldn't help paying homage to the great and horrible chaw that has kept so many service members awake on watch through the night.
We're looking for non-fiction stories related to coping mechanisms, affairs, violating protocol in the name of escapism, mental health vacations, shore leave / R&R adventures, emergency sex, adopting a base cat, or other extreme actions taken to alleviate boredom and preserve sanity during one's service or the period that followed during reintegration to the civilian world. We're interested in any interpretation you might take on the theme, so feel free to surprise us.
We hope in choosing this topic that we're able to offer veteran writers a chance to consider their service through humor, absurdism, and surrealism if they find it appropriate (though all takes on the theme are welcome), and provide our readers insights into the lesser-talked about inglorious aspects of service: the tricks and tales of what people have to do to endure boredom, loneliness, heartbreak, trauma, and other human traits that undermine the all-consuming need to remain "effective". Active duty writers concerned about negatively affecting their careers are welcome to submit under a pen name. We get it.
Veterans of all branches and generations, active duty service members, military family members, and interpreters are welcome to submit non-fiction works up to 7,000 words in length or less. Previously published work is welcome as long as you indicate in your cover letter where the work received its first publication. Simultaneous submissions are encouraged. Contributors will receive a contributor copy by mail.
You can learn more about our previous volume, Returning Home, read reviews, and hear stories from previous contributors at
www.incomingradio.org
".
We look forward to reading your work!
- So Say We All
So Say We All is collaborating with the Jacobs Center for Neighborhood Innovation's Placemakers program to tell the story of Southeast San Diego through the written and spoken perspectives of the people who live and work there! Whether poetry, essays, or non-fiction prose, we want stories that take place in the neighborhood or strive to define an aspect of it, however you choose to interpret that.
Here's a handy map detailing the neighborhoods and communities that define Southeastern SD if you're wondering about the geographic boundaries.
Works would ideally be under 5,000 words, however we will still happily consider them if they run longer. Want to see an example of what we're received in the past? Here's
a performed story written by Michael Billingsley
that debuted at our City College Showcase a few years back! Any subject matter or approach is welcome, as long as it features the neighborhood.
All accepted writers will receive edits and one-on-one coaching from our teaching artists, have their work published through the project, and be invited to perform their piece at an upcoming performance series in the fall of 2017 in addition to receiving fellowships to attend Masterclasses by visiting writers for free.
Thank you for helping us tell the story of one of San Diego's most significant neighborhoods, and we look forward to reading your works!
PS: Photos and artworks that interpret or document the neighborhood are welcome as well, so send us your goods!
Black Candies is a journal of literary horror and darkness. In these dark corners, we have infinite room to grow, and to innovate. We're allowed to push boundaries and set precedents. We revel in the daring. We aim to scare. Scary can be good. Scary can cause change.
This year, our theme is The Eighties. Whether you lived through it, or fetishize it, there's no denying its continued effect.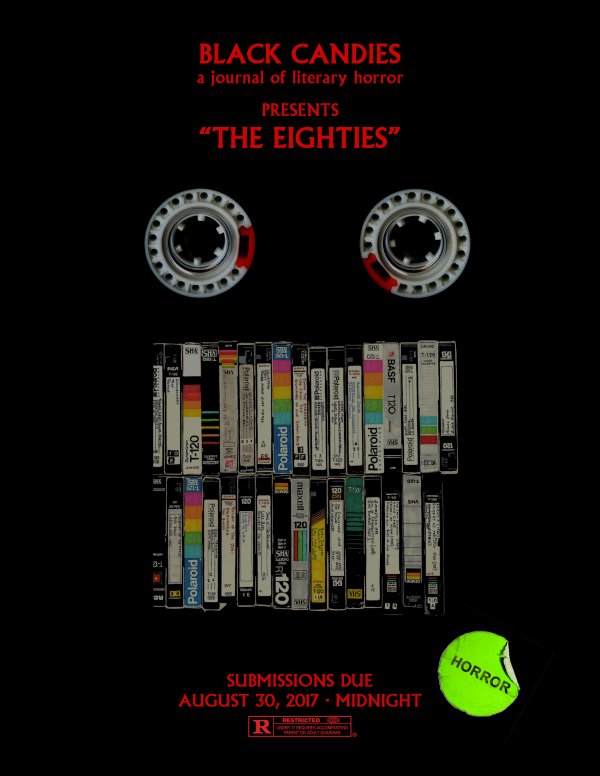 Horror and the '80s go hand in hand. Movie fans can point to it as the decade where franchises like Nightmare on Elm Street, Halloween, Hellraiser and Friday the 13th turned monsters into celebrities. It's a decade that gave birth to the VHS, which allowed us to mainline horror right into our living rooms. The format also enabled a generation of crude, disgusting, and often brilliant filmmakers whose access to the expansive market gave them free reign to coat their screens with blood.
But art wasn't the only thing that became horrific. Both consumerism and nationalism surged. Hate and bigotry blinded us to an epidemic that ravaged the country, while those in power laughed about it. We were ruled by an idiot entertainer. Any of this sound familiar?
What we're looking for: We're looking for stories that are set in, pay homage to, or reference the '80s in a major way. No smartphones, no Internet. Analog technology. Drugs. Yuppies. Wealth. Social commentary. It's pretty open to interpretation, really. Think Stranger Things. Think nostalgia. Think Scary Stories to Tell in the Dark.
What we're not looking for: Even though splatter films ruled the era, that's not what we want. Black Candies attempts to publish the best in literary horror. We want to be scared, shaken and disturbed by your story, but at the same time, we want to fall in love with your prose. We want it to be smart. Gore and blood is fine as long as your story doesn't obsess over it.
No word limit, but 2,000-6,000 is ideal.
Submission deadline: August 31st, 2017